---
---
JP2M is stands for Jurnal Pendidikan dan Pembelajaran Matematika. JP2M is a high quality open access peer reviewed research journal that is published by Mathematics Education Department of University of Bhinneka PGRI. JP2M disseminates new research results in all areas of mathematics, mathematics education and their applications in learning by researchers, academicians, professional, practitioners and students from all over the world.
Start from this year (September 2015), this journal will be published two times a year, in March and September.

JP2M has been nationally accredited according to the Decree No. 200/M/KPT/2020 managed by Ministry of Research and Technology/National Research and Innovation Agency of Republic Indonesia (RISTEK/BRIN) and indexed by Sinta 4th since 23rd of December 2020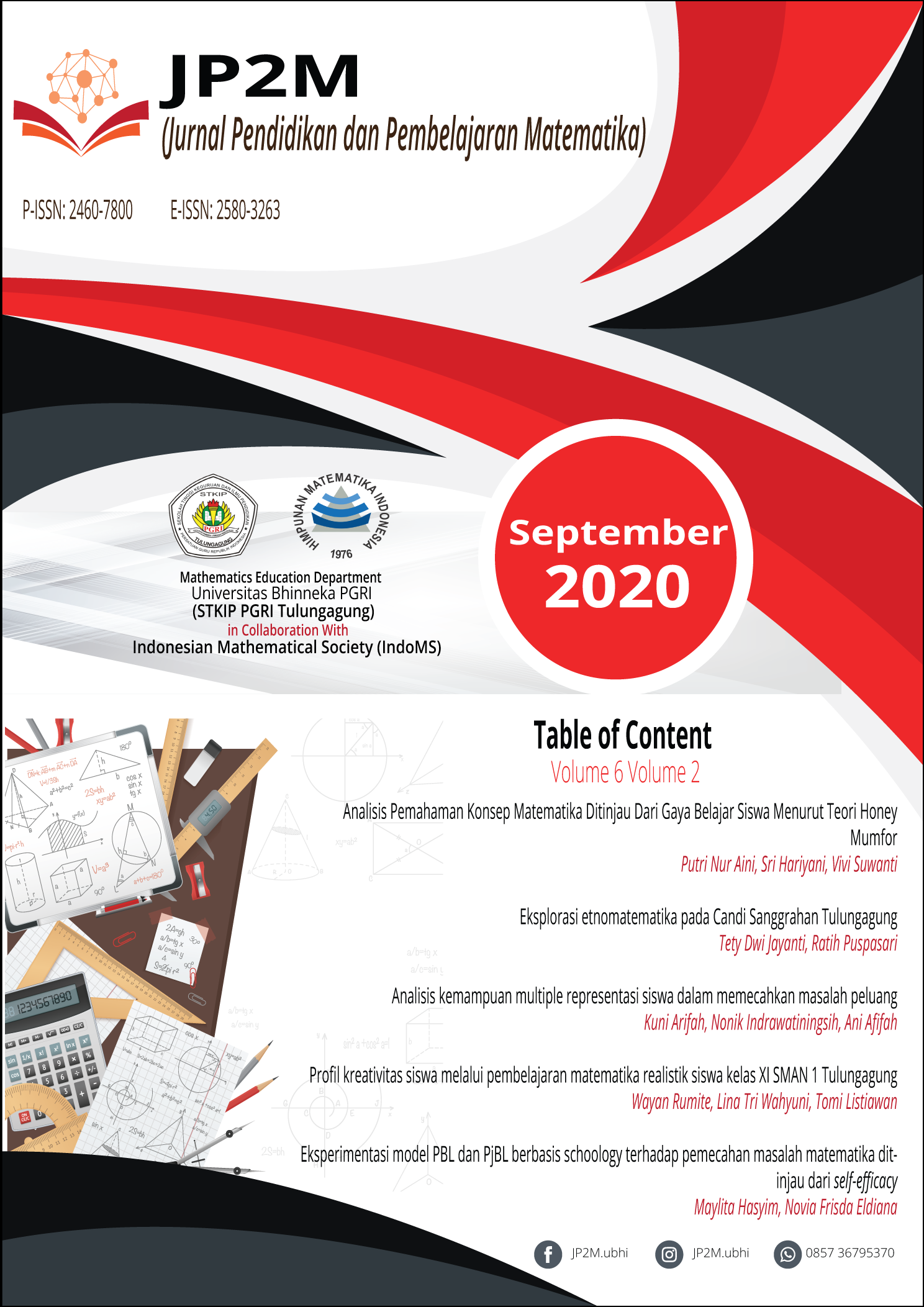 Announcements
JP2M Call for Editor & Reviewer

JP2M (Jurnal Pendidikan dan Pembelajaran Matematika) seeks applications from enthusiastic researchers and scholars who can oversee and maintain the editorial direction of the journal to ensure a steady flow of engaging and thought-provoking original research publications.
Posted: 2020-09-20
More...
Vol 9, No 1 (2023)
Table of Contents
Apriyani Katili (Universitas Papua)
Haryanto Haryanto (Universitas Papua)
Andi Fajeriani Wyrasti ((SCOPUS ID: 57207966762) Universitas Papua)


DOI: 10.29100/jp2m.v9i1.2650

1-11
Muhamad Dwi Zaenuri (Universitas Veteran Bangun Nusantara)
Erika Laras Astutiningtyas (Universitas Veteran Bangun Nusantara)


DOI: 10.29100/jp2m.v9i1.3605

20-34
Teddy Alfra Siagian (Universitas Bengkulu)
Epi Ratna Sari (Universitas Bengkulu)
Lutfiah Dwi Gatara (Universitas Bengkulu)
Ridho Agio Nesta (Universitas Bengkulu)
Ratnah Lestary (Universitas Bengkulu)


DOI: 10.29100/jp2m.v9i1.3649

35-45
Ghea Desianty Ramadina (Universitas Singaperbangsa Karawang)
Rina Marlina (Universitas Singaperbangsa Karawang)


DOI: 10.29100/jp2m.v9i1.3678

46-51
Moh Mahfud Effendi (Universitas Muhammadiyah Malang)
Hendarto Cahyono (Universitas Muhammadiyah Malang)
Siti Khoiruli Ummah (Universitas Muhammadiyah Malang)


DOI: 10.29100/jp2m.v9i1.3895

52-65
PENGARUH GAYA BELAJAR TERHADAP MOTIVASI BELAJAR SISWA PADA PEMBELAJARAN MATEMATIKA

Anggun Rachmawati Putri (UIN Sunan Kalijaga Yogyakarta)
Sintha Sih Dewanti (UIN Sunan Kalijaga Yogyakarta)


DOI: 10.29100/jp2m.v9i1.3895

66-76
Teddy Alfra Siagian (Universitas Bengkulu)
Rahadi Bimansah (Universitas Bengkulu)
Selly Sindiyani (Universitas Bengkulu)
Adinda Dewi Anggraeni (Universitas Bengkulu)
Ratnah Lestary (Universitas Bengkulu)


DOI: 10.29100/jp2m.v9i1.3677

77-90
Lailatul Magfiroh (Universitas Muhammadiyah Ponorogo)
Uki Suhendar (Universitas Muhammadiyah Ponorogo)
Riko Sudirman (Pusat Pendidikan Warga Negara Indonesia (PPWNI) Klang Malaysia)


DOI: 10.29100/jp2m.v9i1.3921

91-97
Rahmi Aisyah (Program Studi Pendidikan Matematika, UIN Sjech M. Djamil Djambek Bukittinggi)
Tasnim Rahmat (Program Studi Pendidikan Matematika, UIN Sjech M. Djamil Djambek Bukittinggi)


DOI: 10.29100/jp2m.v9i1.3660

98-108
Diesty Hayuhantika (Universitas Bhinneka PGRI)
Eka Yuliana Sari (Universitas Bhinneka PGRI)


DOI: 10.29100/jp2m.v9i1.4007

109-114
Helena Belinda (Universitas Advent Indonesia)
Nora Susilowaty (Universitas Advent Indonesia)


DOI: 10.29100/jp2m.v9i1.4018

125-135
Desy Carolina Sihombing (FKIP Universitas Advent Indonesia)
Nora Susilowaty (FKIP Universitas Advent Indonesia)


DOI: 10.29100/jp2m.v9i1.4028

136-145