---
| | |
| --- | --- |
| Journal title | JIPI (Jurnal Ilmiah Penelitian dan Pembelajaran Informatika) |
| Initials | JIPI |
| Abbreviation | J. Ilm. Penelit. dan Pembelajaran Inform |
| Frequency | 4 issues per year (March - June - September - December) |
| DOI | Prefix 29100 |
| ISSN | 2540-8984 (Online) |
| Editor-in-chief | Fahrur Rozi, M.Kom |
| Publisher | Prodi Pendidikan Teknologi Informasi - STKIP PGRI Tulungagung |
| Citation Analysis | Google Scholar| Sinta | Garuda  |
---
JIPI (Jurnal Ilmiah Penelitian dan Pembelajaran Informatika) e-ISSN: 2540 - 8984 was made to accommodate the results of scientific work in the form of research or papers are made in the form of journals, particularly the field of Information Technology. JIPI is a journal that is managed by the Information Technology Program PGRI STKIP Tulungagung. Journal has been indexed by SINTA, Google Scholar, DOAJ, Crossref and others. JIPI has been supervised by RJI (Relawan Jurnal Indonesia)
short link :JIPI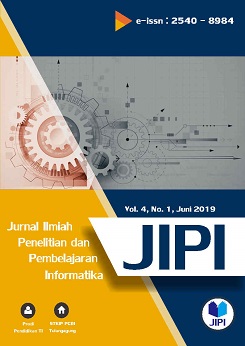 Announcements
Contact Person

If you have problem when submit journal please contact this number via Whatsapp 085646149638

All submitted articles starting on August 5, 2022 will be scheduled to be published on Vol 8 No 1 March 2023

Posted: 2022-07-18

Vol 8 No 1 : March (2023) - FUTURE ISSUE (OPEN)

SISTEM PENDUKUNG KEPUTUSAN PEMILIHAN LOKASI AGEN GARASI  KREATIF METODE FUZZY SAW
Arif Setiawan, Vivi Aida Fitria

SISTEM INFORMASI PENJUALAN KERAJINAN KORAN BERBASIS WEB (STUDI KASUS TOKO WISATA KAMPUNG AER)
Mareta yuliani, Ria andryani

KOMPARASI LOAD BALANCING METODE PCC DAN NTH PADA MIKROTIK IMPLENTASI DI AL IRSYAD TENGARAN 7 BATU
Ahmad Zaqi, ABD.Hadi

PERANCANGAN DESAIN ANTARMUKA PENGGUNA PADA APLIKASI HELPMEONG BAGI ADOPTER MENGGUNAKAN METODE GOAL-DIRECTED DESIGN
Thasya Ummul Kulsum, Faishal Mufied Al Anshary, Rahmat Fauzi

PENGEMBANGAN SISTEM INFORMASI EKSEKUTIF UNIT LAYANAN PENGADAAN PADA KEMENTERIAN KETENAGAKERJAAN
Muhamad Yazir Rizki, Anggraeni Ridwan

ANALYSIS OF THE IMPLEMENTATION OF MVVM ARCHITECTURE PATTERN ON PERFORMANCE OF IOS MOBILE-BASED APPLICATIONS
Deri Indrawan, Dana Sulistyo Kusumo, Shinta Yulia Puspitasari

DEVELOPMENT OF WEBAPPS-BASED E-LEARNING AT SMK MIFTAHUL ANWAR MENES
Mokh. Sidqi Fahmi, Didik Aribowo, Irwanto

EVALUATION OF SAP IMPLEMENTATION ACCEPTANCE WITH THEORY OF PLANNED BEHAVIOR AT PT KERETA API INDONESIA (PERSERO)
Audhini Salsabilla Syauqie, Warih Puspitasari, Lutfia Septiningrum

Posted: 2022-04-03
More...

Vol 7 No 4 : December (2022) - FUTURE ISSUE (CLOSED)

ENTERPRISE ARCHITECTURE DESIGN BLUEPRINT FOR SMART VILLAGE IMPLEMENTATION IN SUMUR BANDUNG SUB DISTRICT (CASE STUDY : SMART LIVING DIMENSION)
Dzaky Muhammad Rafi Permana, Berlian Maulidya Izzati, Fitriyana Dewi

ANALYSIS OF WIRELESS AND CABLE NETWORK QUALITY-OF-SERVICE PERFORMANCE AT TELKOM UNIVERSITY LANDMARK TOWER USING NETWORK DEVELOPMENT LIFE CYCLE (NDLC) METHOD
Farras Naim, Rd. Rohmat Saedudin, Umar Yunan Kurnia Septo Hediyanto

PERANCANGAN MANAJEMEN INFORMASI BERDASARKAN STANDAR NASIONAL AKREDITASI RUMAH SAKIT (SNARS) DAN JOINT COMMISSION INTERNATIONAL (JCI) PADA RUMAH SAKIT GIGI DAN MULUT (RSGM) MARANATHA
Dwi Kurnianto Utomo, Iqbal Santosa, Widyatasya Agustika Nutrisha

PERSONALITY CLASSIFICATION OF SOCIAL MEDIA USERS BASED ON TYPE OF WORK AND INTEREST IN INFORMATION
Rizky Yudha Pratama, Sri Suryani Prasetyowati, Yuliant Sibaroni

SMART VILLAGE DESIGN USING INDONESIAN GOVERNMENT ENTERPRISE ARCHITECTURE
Salma Ida Anindita, Berlian Maulidya Izzati, Fitriyana Dewi

DESIGN OF ENTERPRISE ARCHITECTURE IN E-GOVERNMENT DEVELOPMENT USING TOGAF ADM 9.2 FRAMEWORK IN ELECTRICITY SECTOR OF DEPARTMENT ENERGY AND MINERAL RESOURCE OF WEST JAVA PROVINCE
Adam Satya Kencana, Asti Amalia Nur Fajrillah, Ridha Hanafi

CLASSIFICATION OF DOG BREEDS FROM SPORTING GROUPS USING CONVOLUTIONAL NEURAL NETWORK
Naufal Harsa Pratama, Ema Rachmawati, Gamma Kosala

SOCIAL MEDIA USER PERSONALITY CLASSIFICATION BASED ON HOW USER LIVE AND MAKE DECISION
Chamadani Faisal Amri, Sri Suryani Prasetyowati, Yuliant Sibaroni

KLASIFIKASI ULASAN PENGGUNA APLIKASI: STUDI KASUS APLIKASI IPUSNAS PERPUSTAKAAN NASIONAL REPUBLIK INDONESIA (PNRI)
Andina Septiani, Indra Budi

PERANCANGAN USER INTERFACE/USER EXPERIENCE (UI/UX) WEBSITE HELPMEONG UNTUK SHELTER MENGGUNAKAN METODE GOAL-DIRECTED DESIGN
Robertus Rotama Marbun, Faishal Mufied Al Anshary, Rahmat Fauzi

SISTEM PENDUKUNG KEPUTUSAN PEMILIHAN PEMASOK MENGGUNAKAN METODE SIMPLE ADDITIVE WEIGHTING STUDI KASUS PT. KAYU PUTIH ABC
Riza Akhsani Setyo Prayoga

CHATBOT-BASED CULINARY TOURISM RECOMMENDER SYSTEM USING NAMED ENTITY RECOGNITION
Adri Nur Fajari, Z.K.A. Baizal

BANDUNG CITY TRAFFIC CLASSIFICATION MAP WITH MACHINE LEARNING AND ORDINARY KRIGING
Winico Fazry, Sri Suryani Prasetyowati, Yuliant Sibaroni

QUESTION ANSWERING FOR SUMEDANG LARANG KINGDOM USING THE MULTILAYER PERCEPTRON ALGORITHM
Arifa Nur Hasanah, Z.K.A. Baizal, Ramanti Dharayani

ANALYSIS OF RELIGIOUS COURT INFORMATION SECURITY RISK MANAGEMENT USING THE OCTAVE ALLEGRO METHOD (CASE STUDY OF KEDIRI CITY)
Cintya Risquna Miendarki, Rahmat Yasirandi,Rio Guntur Utomo

SISTEM INFORMASI INVENTARIS BARANG BERBASIS WEBSITE (STUDI KASUS: SMP NEGERI 01 RUNJUNG AGUNG)
Reta Dwi Putri, Ria Andryani

PERANCANGAN DESAIN MONITORING JARINGAN KOMPUTER UNTUK EASY MAINTENANCE DI TELKOM UNIVERSITY LANDMARK TOWER
Aria Fajar Ramdhany, RD. Rohmat Saedudin, Umar Yunan Kurnia Septo

PREDIKSI PENJUALAN BARANG PADA TOKO BABY SHOP DENGAN ALGORITMA SINGLE MOVING AVERAGE (SMA)
Kemal Farouq M, Ilmiyah Ityanatul Jayyidah

DETEKSI DINI GANGGUAN KECEMASAN MENGGUNAKAN METODE NAÏVE BAYES
Tutut Anjarsari, Ika Ratna Indra Astutik, Uce Indahyanti

WEB SCRAPING WITH HTML DOM METHOD FOR WEBSITE NEWS API CREATION
Maulana Irfan Firdian, Eko Darwiyanto, Monterico Adrian

E – LIVING CO. SISTEM INFORMASI WEB PENYEWAAN RUMAH TINGGAL (KONTRAKAN/KOST) DI DAERAH JAKARTA SELATAN
Ahmad Arief Fadila, Agung Triayudi, Eri Mardiani

KLASIFIKASI TUMBUHAN ANGIOSPERMAE MENGGUNAKAN ALGORITMA K-NEAREST NEIGHBOR BERDASARKAN PADA BENTUK DAUN
Arvin Christopher, Teady Matius Surya Mulyana

PREDICTION AND MAPPING RAINFALL CLASSIFICATION USING NAÏVE BAYES AND SIMPLE KRIGING
Indra Kusuma Yoga, Sri Suryani Prasetyowati, Yuliant Sibaroni

EVALUATION AND REDESIGN USER INTERFACE METOOCEL APPLICATION USING HUMAN CENTERED DESIGN METHOD
Muhammad Shalahuddin Aldi Baihaqi, Indra Lukmana Sardi, Rosa Reska Riskiana

KLASIFIKASI PENYAKIT DIABETES MELLITUS BERDASARKAN FAKTOR-FAKTOR PENYEBAB DIABETES MENGGUNAKAN ALGORITMA C4.5
Ronna Putri Fadhillah, Raisya Rahma, Arni Sepharni, Ratna Mufidah, Betha Nurina Sari, Agung Pangestu

RANCANG BANGUN APLIKASI PELAPORAN FASILITAS UMUM BERBASIS WEB SERVICE DALAM RANGKA MENUJU SIDOARJO SMART CITY DAN OPEN DATA
Ananda Dwi Prasetyo, Irwan Alnarus Kautsar, Nuril Lutvi Azizah

KLASIFIKASI MULTI-LABEL MENGGUNAKAN METODE MULTI-LABEL K-NEAREST NEIGHBOR (ML-KNN) PADA PENYAKIT KANKER SERVIKS
Erisa Rizkyani, Iin Ernawati, Nurul Chamidah

EVALUASI KESUKSESAN IMPLEMENTASI E-RECRUITMENT DALAM PROSES PENERIMAAN KARYAWAN MENGGUNAKAN METODE DELONE DAN MCLEAN DI PT KERETA API INDONESIA (PERSERO)
Rico Kasdim, Warih Puspitasari, Lutfia Septiningrum

Posted: 2022-01-27
More...
Vol 7, No 3 (2022)
Table of Contents
Cavin Nugraha (Universitas PGRI Sumatera Barat)
Heri Mulyono (STKIP PGRI Sumatera Barat)
Ade Pratama (Universitas PGRI Sumatera Barat)


DOI: 10.29100/jipi.v7i3.2877

|

View: 11 time(s) |

Download: 14 time(s)

622-631
David Bona Purba (Universitas Singaperbangsa Karawang)
Betha Nurina Sari (Universitas Singaperbangsa Karawang)


DOI: 10.29100/jipi.v7i3.2879

|

View: 9 time(s) |

Download: 6 time(s)

632-638
Muhammad Rizky Setiadi
Rifal Adhi Nugroho (Politeknik Piksi Ganesha)
Falaah Abdussalaam (Politeknik Piksi Ganesha)


DOI: 10.29100/jipi.v7i3.2883

|

View: 35 time(s) |

Download: 24 time(s)

639-650
Muhammad Ardiansyah (Universitas Muhammadiyah Sidoarjo)
Irwan A. Kautsar (Universitas Muhammadiyah Sidoarjo)


DOI: 10.29100/jipi.v7i3.2874

|

View: 7 time(s) |

Download: 3 time(s)

651-661
Lukman Abdurrahman (Telkom Universiaty)


DOI: 10.29100/jipi.v7i3.2992

|

View: 6 time(s) |

Download: 3 time(s)

662-670
Jovan Millenno Claudiyap
Pratyaksa Ocsa Nugraha Saian (Universitas Kristen Satya Wacana)


DOI: 10.29100/jipi.v7i3.3014

|

View: 8 time(s) |

Download: 3 time(s)

671-679
Allin Junikhah (Universitas Islam Negeri Maulana Malik Ibrahim Malang)


DOI: 10.29100/jipi.v7i3.3012

|

View: 7 time(s) |

Download: 1 time(s)

680-691
Satria Mugitama (Telkom University)
Andrian Rakhatsyah (Telkom University)
Alfian Ghozali (Telkom University)


DOI: 10.29100/jipi.v7i3.2995

|

View: 12 time(s) |

Download: 9 time(s)

692-700
Anwar Fuadi (Universitas Singaperbangsa Karawang)
Aries Suharso (Universitas Singaperbangsa Karawang)


DOI: 10.29100/jipi.v7i3.3026

|

View: 7 time(s) |

Download: 5 time(s)

701-710
Agung Wahyudi (Universitas Ahmad Dahlan)
Sunardi Sunardi
Imam Riadi


DOI: 10.29100/jipi.v7i3.2994

|

View: 6 time(s) |

Download: 3 time(s)

711-717
Karlina Mulya Febianti (Universitas Stikubank Semarang)
Kristophorus Hadiono


DOI: 10.29100/jipi.v7i3.3032

|

View: 7 time(s) |

Download: 4 time(s)

718-727
Ilham Izzul Hadyan (Telkom University)
Dana Sulistyo Kusumo (Telkom University)
Jati Hiliamsyah Husen (Telkom University)


DOI: 10.29100/jipi.v7i3.3066

|

View: 13 time(s) |

Download: 14 time(s)

728-734
Lilik Husein Efendi (Universitas Kristen Satya Wacana)
Dian Widiyantoko Chandra (Universitas Kristen Satya Wacana)


DOI: 10.29100/jipi.v7i3.3048

|

View: 10 time(s) |

Download: 6 time(s)

735-744
Umar Syarif
Pizaini Pizaini (Universitas Islam Negeri Sultan Syarif Kasim Riau)


DOI: 10.29100/jipi.v7i3.3067

|

View: 6 time(s) |

Download: 4 time(s)

745-756
Obi Ramdhani (Universitas Nusa Putra)
Indra Yustiana (Prodi Teknik Informatika Universitas Nusa Putra)
Anggun Fergina (Prodi Teknik Informatika Universitas Nusa Putra)


DOI: 10.29100/jipi.v7i3.3080

|

View: 29 time(s) |

Download: 7 time(s)

757-767
Dhymas Julyan Riyanto (Universitas Islam Negeri Sultan Syarif Kasim)
Pizaini Pizaini (Universitas Islam Negeri Sultan Syarif Kasim)
Nazruddin Safaat (Universitas Islam Negeri Sultan Syarif Kasim)
Muhammad Affandes (Universitas Islam Negeri Sultan Syarif Kasim)


DOI: 10.29100/jipi.v7i3.3126

|

View: 7 time(s) |

Download: 6 time(s)

768-779
Edo Herlalang (Universitas Muhammadiyah Sidoarjo)
Irwan A. Kautsar (Universitas Muhammadiyah Sidoarjo)


DOI: 10.29100/jipi.v7i3.2990

|

View: 10 time(s) |

Download: 5 time(s)

780-791
Ridwan Dwi Irawan (Universitas Amikom Yogyakarta)
Ema Utami (Universitas Amikom Yogyakarta)
Alva Hendi Muhammad (Universitas Amikom Yogyakarta)


DOI: 10.29100/jipi.v7i3.3146

|

View: 12 time(s) |

Download: 9 time(s)

792-802
Muh Adha (Universitas Amikom Yogyakarta)
Ema Utami (Universitas Amikom Yogyakarta)
Hanafi Hanafi (Universitas Amikom Yogyakarta)


DOI: 10.29100/jipi.v7i3.3139

|

View: 8 time(s) |

Download: 6 time(s)

803-820
Annisa Nugraheni
Maryam Maryam (Universitas Muhammadiyah Surakarta)


DOI: 10.29100/jipi.v7i3.3096

|

View: 12 time(s) |

Download: 10 time(s)

821-834
Valentino Kristian Reynaldi
Nina Setiyawati (Universitas Kristen Satya Wacana)


DOI: 10.29100/jipi.v7i3.3109

|

View: 18 time(s) |

Download: 11 time(s)

835-849
Raisya Rahma
Ratna Mufidah (Singaperbangsa Karawang University)


DOI: 10.29100/jipi.v7i3.3144

|

View: 9 time(s) |

Download: 4 time(s)

850-857
Candra Wijayanto
Yeremia Alfa Susetyo (Universitas Kristen Satya Wacana)


DOI: 10.29100/jipi.v7i3.3161

|

View: 6 time(s) |

Download: 7 time(s)

858-868
Dzaki Rachmanda Malik Imanudin (Telkom University)
Berlian Maulidya Izzati (Telkom University)
Fitriyana Dewi (Telkom University)


DOI: 10.29100/jipi.v7i3.3171

|

View: 7 time(s) |

Download: 6 time(s)

869-879
Naufal M. Fadilah
Lukman Abdurrahman (Telkom University)
Rahmat Mulyana (Telkom University)


DOI: 10.29100/jipi.v7i3.3156

|

View: 9 time(s) |

Download: 5 time(s)

880-893
Bonyfasius Benry Tarsisius Lumbanraja
Lukman Abdurrahman (Telkom University)
Rahmat Mulyana (Telkom University)


DOI: 10.29100/jipi.v7i3.3155

|

View: 10 time(s) |

Download: 7 time(s)

894-906
Maurizka Nabila Chairunnisa (Telkom University)
Rokhman Fauzi (Universitas Telkom)
Iqbal Santosa (Universitas Telkom)


DOI: 10.29100/jipi.v7i3.3166

|

View: 7 time(s) |

Download: 7 time(s)

907-917
Arya Prima Al Aufar (Telkom University)
Ade Romadhony (Telkom University)
Hasmawati Hasmawati (Telkom University)


DOI: 10.29100/jipi.v7i3.3101

|

View: 10 time(s) |

Download: 11 time(s)

918-925
Deden Sukmana (STMIK LIKMI)
Sugiarti Sugiarti (STMIK LIKMI)


DOI: 10.29100/jipi.v7i3.2881

|

View: 6 time(s) |

Download: 3 time(s)

926-934
Nazhara Aurellia Hakim
Iqbal Santosa (Universitas Telkom Bandung)
Luthfi Ramadani (Universitas Telkom Bandung)


DOI: 10.29100/jipi.v7i3.3173

|

View: 13 time(s) |

Download: 2 time(s)

935-944
Merawati Merawati (Universitas Nusa Putra)
Indra Yustiana (Universitas Nusa Putra)
Somantri Somantri (Universitas Nusa Putra)


DOI: 10.29100/jipi.v7i3.3157

|

View: 6 time(s) |

Download: 5 time(s)

945-957
Sri Utari Ningrum (UNIVERSITAS PGRI ADIBUANA SURABAYA)
Ibut Priono Leksono (Universitas PGRI Adibuana Surabaya)
Ujang Rohman (Universitas PGRI Adibuana Surabaya)
Bambang Winarto (Universitas Wisnu Wardhana Malang)


DOI: 10.29100/jipi.v7i3.3154

|

View: 7 time(s) |

Download: 6 time(s)

958-968
Benedict Hardyanto Harjono (Universitas Kristen Satya Wacana)
Nina Setiyawati (Universitas Kristen Satya Wacana)


DOI: 10.29100/jipi.v7i3.3159

|

View: 8 time(s) |

Download: 9 time(s)

969-980
Fardan Fardan
Achmad Rizal (Telkom University)
Sugondo Hadiyoso (Telkom University)


DOI: 10.29100/jipi.v7i3.3069

|

View: 12 time(s) |

Download: 10 time(s)

981-992
Elviani Elviani
Elin Haerani (UIN Sultan Syarif Kasim Riau)
Eka Pandu Cynthia (UIN Sultan Syarif Kasim Riau)
Fitra Kurnia (UIN Sultan Syarif Kasim Riau)
Fadhilah Syafria (UIN Sultan Syarif Kasim Riau)


DOI: 10.29100/jipi.v7i3.3149

|

View: 0 time(s) |

Download: 0 time(s)

993-1004