---
| | |
| --- | --- |
| Journal title | BRIGHT: A Journal of English Language Teaching, Linguistics and Literature |
| Initials | BRIGHT |
| Abbreviation | BRIGHT Journal |
| Frequency | 2 issues per year |
| DOI | Prefix 29100 |
| ISSN | 2599-0322 (Online) |
| Editor-in-chief | Ayu Rizki Septiana |
| Publisher | STKIP Tulungagung |
| Citation Analysis | Google Scholar |
---
BRIGHT Journal is a journal of English Language Teaching, Linguistics and Literature. It is published twice a year in the months of January and July. It presents articles on analysis, studies, application of theories, research reports, materials development and reviews in the area of English language teaching, linguistics and literature.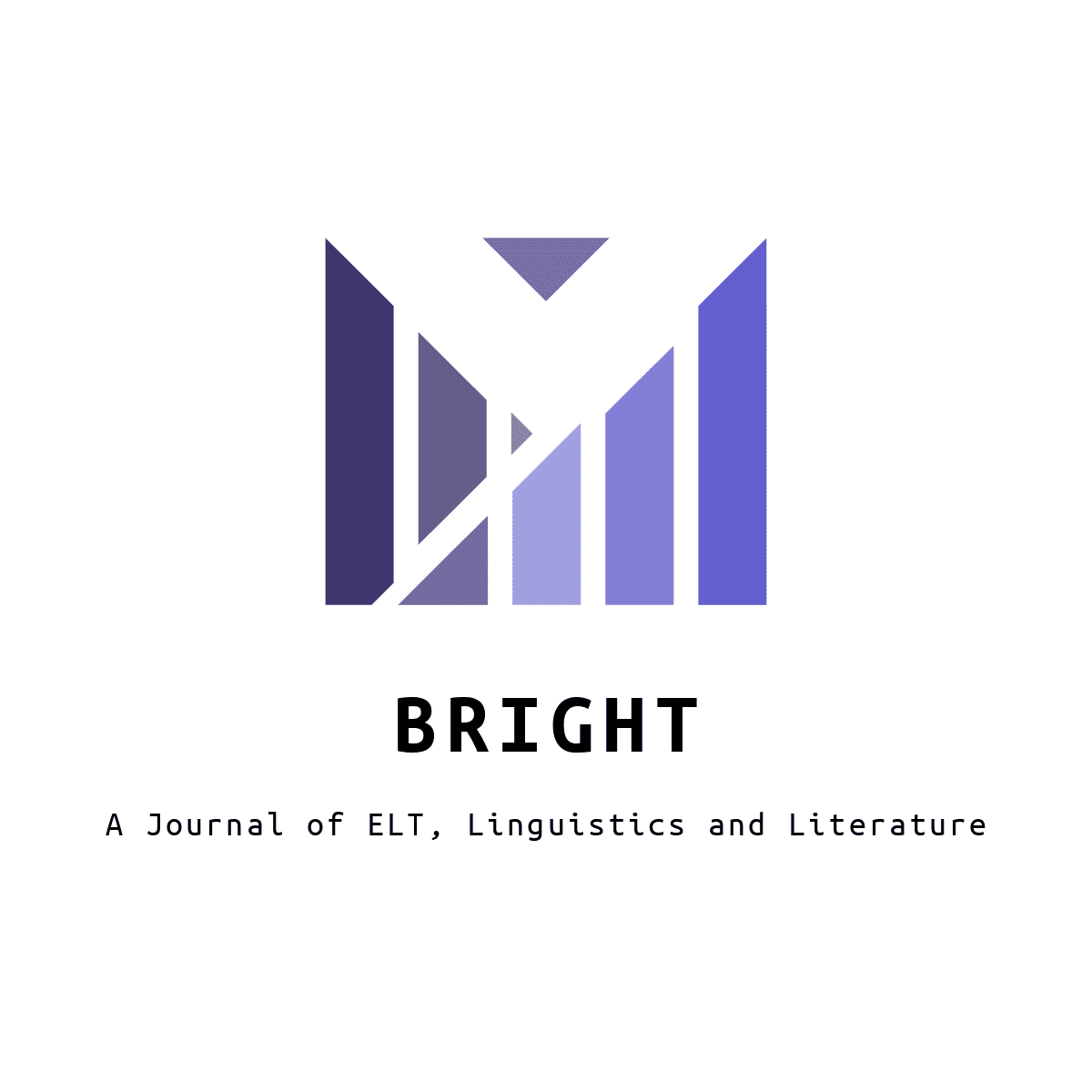 Indexed by Google Scholar
Informasi
CALL FOR PAPERS VOLUME 4 NO 2 JULY 2021

BRIGHT: A Journal of English Language Teaching, Linguistics and Literature invites scholars, academicians, education policymakers, and other stakeholders to send original research papers. The accepted manuscripts will be published on Vol.4 No.2, July 2021

Dikirimkan: 2021-01-14
Lebih Lanjut...

CALL FOR EDITOR AND REVIEWER

BRIGHT seeks applications from enthusiastic researchers and scholars who can oversee and maintain the editorial direction of the journal to ensure a steady flow of engaging and thought-provoking original research publications.

Dikirimkan: 2020-12-01
Lebih Lanjut...
Vol 4, No 1 (2021)
Daftar Isi
Artikel
Siti Maryam Solihat (Universitas Negeri Jakarta)


DOI: 10.29100/bright.v4i1.1815

|

View: 113 time(s) |

Download: 48 time(s)

1-9
Veronika Anggun Indahsari (Universitas Wijaya Kusuma Surabaya)
Ribut Surjowati (Universitas Wijaya Kusuma, Surabaya)


DOI: 10.29100/bright.v4i1.1826

|

View: 60 time(s) |

Download: 42 time(s)

10-20
Meiga Ratih Tirtanawati (IKIP PGRI BOJONEGORO)


DOI: 10.29100/bright.v4i1.1845

|

View: 117 time(s) |

Download: 49 time(s)

21-31
Theresia Budi Sucihati (Universitas PGRI Madiun)


DOI: 10.29100/bright.v4i1.1816

|

View: 131 time(s) |

Download: 185 time(s)

40-47
Vitria Candra Dewi (Universitas Bhinneka PGRI)
Ika Rahmawati (STKIP PGRI TULUNGAGUNG)


DOI: 10.29100/bright.v4i1.1846

|

View: 62 time(s) |

Download: 33 time(s)

48-55